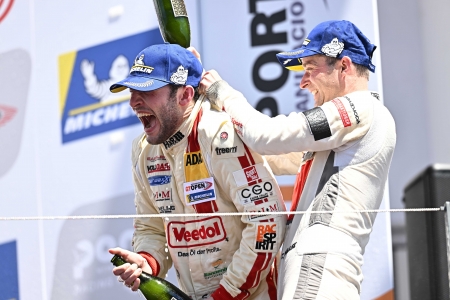 Simon Reicher is no stranger to motorsports. His racing career began at the age of 8. "I'm happy and grateful I grew up with karting, the traditional school of motorsports." He had a successful run in karts. In 2014, the Austrian motorsport talent won the 43rd Trofeo delle Industrie in Lonato, Italy. 
After his active time in karting, the Austrian switched to automobile racing in 2016. He made his debut in 2016 and 2017 with the Dutch Certainty Racing Team in the Renault Clio Cup Central Europe and in the TCR Germany. In 2018, he raced for the renowned YACO Racing Team in the cockpit of an Audi RS 3 LMS in the ADAC TCR Germany series. 
In 2019, Simon Reicher made the jump into the GT3 cockpit of the Audi R8 LMS. In his preparatory year, he decided to compete in the Gran Turismo Cup (GTC). Several podium finishes in the GTC, the championship title in the GT3 classification, as well as participations in endurance classics such as the 24H of Dubai and the 12 Hours of Mugello rounded off his 2019 trial season. In 2020, the global pandemic prevented Simon Richer from competing in the ADAC GT Masters. It was an extremely uncertain time for private drivers. But the GT Masters cancellation ushered in another exciting career move for him: the Nürburgring. After several VLN endurance races, the time had finally come for the Austrian: In September 2020 Simon Reicher competed in his first 24-hour race at the Nürburgring.
Since his guest start in the GT World Challenge Europe in Le Castellet in the south of France in spring 2021, Simon Reicher has been an integral part of the GT3 racing scene. In 2021, he entered the ADAC GT Masters with YACO Racing and teammate Norbert Siedler by his side. In 2022, he will also race in the ADAC GT Masters with Norbert Siedler in the newly founded Austrian team EASTALENT RACING. In the meantime, Simon Reicher completed his second 24-hour race at the Nürburgring in May 2022.
Nach seiner aktiven Zeit im Kartsport wechselte der Österreicher 2016 in den Automobil Rennsport. Dort gab er 2016 und 2017 sein Debüt mit dem niederländischen Certainty Racing Team in dem Renault Clio Cup Central Europe und in der TCR Germany. 2018 präsentierte sich er mit dem renommierten YACO Racing Team im Cockpit eines Audi RS 3 LMS bei den ADAC TCR Germany.
2019 gelang Simon Reicher der Sprung ins GT-3 Cockpit des Audi R8 LMS. Als Vorbereitungsjahr entschloss sich der Student im Gran Turismo Cup (GTC) an den Start zu gehen. Mehrere Podiumsplätze in der GTC, der Titel in der GT3 Wertung, sowie die Teilnahmen an Langstreckenklassikern wie die 24H von Dubai und die 12-Stunden von Mugello rundeten seine Probesaison 2019 ab. 2020 verhinderte die weltweite Pandemie Simon Reichers Start in den ADAC GT Masters. Es war für Privatfahrer eine äußerst unsichere Zeit. Doch die Absage bei den GT Masters leitete für ihn einen anderen, spannenden Karriereschritt ein: den Nürburgring. Nach mehreren VLN Langstreckenrennen war es im September 2020 für den Österreicher so weit. Sein erstes 24 Stunden Rennen auf dem Nürburgring.
Seit seinem Gaststart in der GT World Challenge Europe im südfranzösischen Le Castellet im Frühjahr 2021, ist Simon Reicher fester Bestandteil der GT3 Motorsport Szene. 2021 bestritt er mit YACO Racing und seinem Teamkollegen Norbert Siedler das ADAC GT Masters. In der Saison 2022 fährt er auch mit Norbert Siedler im neu gegründeten, österreichischen Team EASTALENT RACING um die Punkte in den ADAC GT Masters. Zwischendurch absolvierte Simon Reicher im Mai 2022 sein zweites 24 Stunden Rennen auf dem Nürburgring. In the 2023 season, the 23-year-old Austrian will pursue new challenges in the international GT Open series together with his team Eastalent-Racing and teammate Christopher Haase.