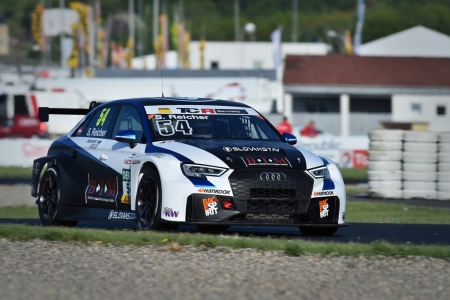 The young Austrian Simon Reicher is excited for his home race in Styria this coming weekend. The ADAC TCR Germany will be racing in the support program of the ADAC GT Masters at the Red Bull Ring. This will be the third of seven race weekends in the 2018 season. "I'm really looking forward to this true motorsport spectacle and am highly motivated to race on my home ground," says the 18-year-old.
For the third time in his young career, the eighth-grade student of the Felbertal High School will have unusually short travels to the circuit. "We drive in Germany, Austria, and the Netherlands all year. But nothing is as exciting as your home race – the Red Bull Ring is just a stone's throw away from my grandparent's house", shares the enthusiastic youngster, adding: "I often visit my grandparents, but staying at their house throughout a race weekend is something very special. I also appreciate and value their active support at the circuit very much.
Simon Reicher gained his first experiences at the Red Bull Ring two years ago in the Renault Clio Cup. "That was an amazing weekend, I remember very well. It took me some time to find my rhythm, but I ended up taking home a fantastic fifth place in the race", the sympathetic racer looks back happily. Past season, Simon Reicher advanced to an Audi RS3 LMS, but has mixed feelings about last year's home race. "I avoid remembering that weekend. Let's just say it was rather mixed. Nonetheless, I did managed to take home the trophy for fastest rookie," the TCR driver thinks positively.
In the meantime, Reicher and his father have set the course for a successful 2018 season. The Kirchberg-native explains: "Last year we didn't set ourselves clear goals. It was about gaining first experiences in a highly competitive series. This season, however, looks a bit different. We switched to the Saxony-based YACO Racing Team, hoping for strong support and subsequent success."
Now its time for that success story to come to fruition. The Austrian has proven several times that he is now among the fastest drivers in the ADAC TCR Germany. During the first two racing events this season, Simon Reicher and his #54 Audi RS3 LMS qualified in top positions. "Unfortunately, I made one or the other mistake in the races thereafter. Some bad luck on top and my first two weekends didn't go as planned. Now, I'm solely focused on my job and the tasks awaiting me this weekend, then the success will come," Simon Reicher demonstrates his optimism.
After all, he did perfectly accomplish his goal of qualifying in the top ten at the past two races. So, it remains exciting to see what Reicher can achieve this coming weekend. The engines will be roaring around the 4,326 meter long Red Bull Ring June 8 through 10. Races will be broadcast live on the German channel Sport 1 and streamed online at sport1.de http://sport1.de/. Simon Reicher's first free practice takes place Friday morning at 8:15 AM.