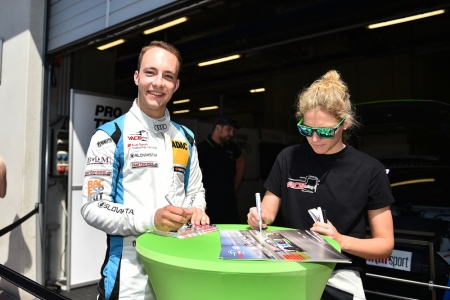 The Red Bull Ring is his home. Just a stone's throw away from his grandparents' house, Simon Reicher competed in the third event of the ADAC TCR Germany last weekend, June 8-10. As home races are always a special experience for racing drivers, the 18-year-old had great expectations. "I very much enjoy coming to the Red Bull Ring. As a kid, my dad and I eagerly stood behind the fence watching cars race by. To be racing here today is an honor for me. Here at home, I obviously I want to deliver a fantastic weekend", reports the youngster.
After the TCR teams, including Simon Reicher's YACO Racing Team, performed some testing laps on Thursday, confidence levels were positive. Hopes were even higher after Reicher placed his blue-and-white #54 Audi RS3 LMS in third position during Friday's free practice. Not a bad starting point for the eigth-grade student of the Felbertal High School. Simon Reicher had good reasons to feel confident about the next two days.
The qualification dampened the positive mood, though. "We did not expect so much rubber on the track. My tires literally stuck to the asphalt, so a fast lap was out of question. Eleventh position in both qualifying sessions is definitely not my cup of tea, especially after demonstrating a great pace during free practice in the morning", Reicher explains, visibly unhappy with his position on the starting grid.
To be fair, the two races on Saturday and Sunday were quite good. But a racing driver analyzes these things from a rather different viewpoint. Hence, Simon Reicher voices himself somewhat critically: "My home race did not go according to plan. We've always had the best races of the season at the Red Bull Ring, but a tenth and eleventh place finish mark my worst races so far. We had challenges handling some tricky conditions. Although we minimized the issue for Sunday's race, allowing me to advance up to sixth place, an even more critical problem jumped back into motion: overheating breaks. Without optimal breaking power, you have to break earlier and cannot attack, rather cruise along and do your best defending." Even a safety-phase did not improve things for the young Austrian. Non-responsive breaks forced him to leave the track, though he did save the car from running into the gravel. Nevertheless, a pack of five competitors had grouped behind him and seized the opportunity to overtake Reicher.
"Out of all places, I drop back to ninth in the championship at my home race. Although we learned a lot again, we need to get back on the right track by the next race at Nürburgring", analyzes TCR Germany driver Simon Reicher.
The Nürburgring race takes place August 3-5 as the fourth of seven weekends in the ADAC TCR Germany. Simon Reicher and his YACO Racing Team aspire to return to old strength and regain lost ground in the championship.