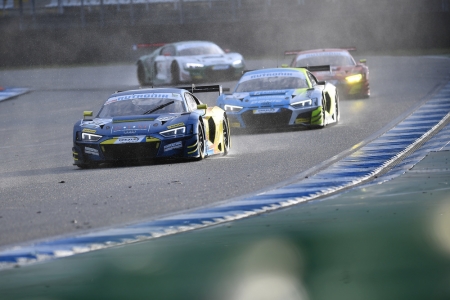 It was one of those weekends that the Austrian Simon Reicher will not forget so quickly. The 19-year-old and his YACO Racing Team delivered a success story at the season finale of the DMV-GTC at Hockenheim. Here are the impressive results of the event: Eighth place qualifier and second place in Friday's race of the Dunlop 60 championship. Second position in the DMV-GTC qualification, third in the subsequent race, pole position in the second qualifying, and third in Saturday's second race.
These fantastic results secured Simon Reicher second position in the Dunlop 60 weekend ranking, third place in the championship, and the title in the GT3 class. The Audi R8 driver ecstatically recounts his many achievements: "The 2019 season in the DMV-GTC was really cool and driving in this championship is a blast. Although we did not compete in the first two race weekends, which translates to missing out on four races, we won the championship. An amazing job by the team. I don't even want to think about where we could have stood, had we competed and scored points in those first four races. Doesn't matter now anyway, we won! I am so proud of our achievements. YACO racing did a perfect job and has provided me a perfect car all season. By the way, this was the 108th race without technical failures for my team. That statistic says a lot. Many thanks to every single person who has worked so hard for winning."
The weekend started out extremely difficult for the youngster. "I would like to think this was the most challenging weekend of the season. Rain, dry, a bit of both, slicks on damp asphalt – these conditions demanded our highest level of concentration. It was my first time driving the GT3 car in such mixed weather. I'm also proud of myself for delivering such a strong performance in the qualifying, which was my third GT3 experience in the rain ever. Switching over so smoothly from rain to slicks in the dry was my personal highlight. I did not expect I'd manage to do so that well. I am very satisfied. Nonetheless, my team and I still have quite a bit of work ahead of us as we strive to improve our performance," the ambitious student happily reports.
"This coming weekend (October 25-26), the ninth round of the VLN endurance championship will be held, whereby I will complete the second portion of my Nordschleife Permit. That will be it then for this year's motorsports activities. Personally, I am very satisfied with my first GT3 season. Not only did I impress with YACO Racing in the DMV, my performance with Car Collection in the Creventic 24-hour races was great, too. Although plans for 2020 are in full swing, I cannot yet say in which series I will compete. 2019 was my introduction to GT3. In 2020 we will take it up a notch. I'm looking forward to where the road ahead takes us," Simon Reicher smiles.