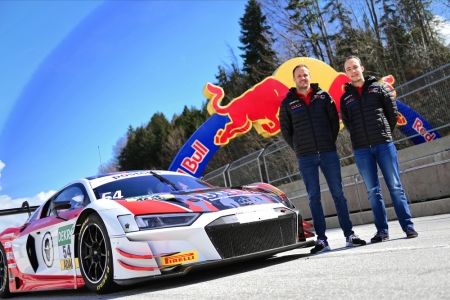 Although an ADAC GT Masters season without YACO Racing is possible, many thousands of fans of the Saxony team have repeatedly expressed over the past eight years: Without YACO Racing, the ADAC GT Masters is only half as diverse.
Last Saturday, team principal Uwe Geipel was evidently proud of his accomplishment: "We are back in the ADAC GT Masters! That alone makes us happy. We used last year's time-out to rearrange ourselves. We are very proud of the resulting product, as we will compete as an Austrian team with the two Austrian drivers Norbert Siedler and Simon Reicher. We will continue developing youngster Simon Reicher, who has demonstrated his talents throughout the past years. All the more reason we are happy to have recruited successful mentor and racing veteran Norbert Siedler, who completes this ideal driver line-up."
Initiator and father of Simon Reicher, Peter Reicher, explains: "This season, red-white-red stands for motorsports made in Austria. We do not understand why motorsports are essentially nonexistent in the Austrian media landscape. We have numerous top-class drivers in Austria and shouldn't shy away from international comparisons. This is something we strive to work on and improve. Anyone who shares our feelings is welcome to join us. Unfortunately, the coronavirus is currently slowing us down a bit. We planned a press conference for last Friday in Vienna, where we wanted to introduce the team and our drivers to press representatives from Austria and Germany. Just a few hours before of our event, the venue had to shut down, forcing us to cancel the team presentation. That said, a big thank you to the Salzburgring, where red-white-red teamwork worked like a charm. We received immediate confirmation to hold our presentation there just the next day. Although the Salzburgring is still on winter break, we were welcomed with open arms."
"I'm very much looking forward to the upcoming season," said Simon Reicher, adding: "That is, if a season will even take place. Everyone's health currently has top priority. Nonetheless, the excitement is huge. It is a great honor for me to tackle new challenges together with Norbert Siedler, from whom I hope to learn tremendously. We'll see where we end up standing. Either way, the learning curve is more important to me than any placement projections. Whenever we've given it our best and gone into full attack mode, I was disappointed with our performance. I am very happy to have YACO Racing on our side. Everyone from the team principal to the mechanics is an experienced and competent motorsport professional. They know how the rabbit runs. I am keen to pick on the know-how of team principal Uwe Geipel, who celebrates his 20th motorsports anniversary this year. The engineers and mechanics are all experts of their trade. In my opinion, we are well-equipped for a successful season."
"I immediately had a good feeling when Peter Reicher told me about the red-white-red idea last November, whereby I also met his son Simon. I'm looking forward to fighting this year, but this also means a lot of work ahead of us. We'll see where this beautiful red-white-red Audi R8 ends up. To find out, we must first go testing. YACO Racing is a great asset to the GT Masters and has already celebrated several successes and victories. I'm excited to connect with the team and about our upcoming challenges. Off we go!" commented 37-year-old Norbert Siedler.