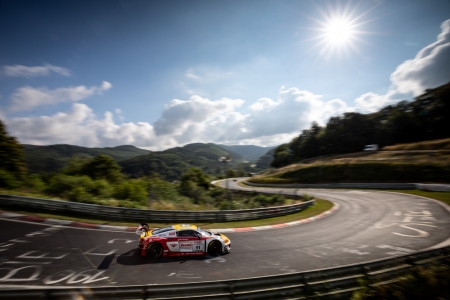 Last weekend's (July 10-12, 2020) edition of the Nürburgring Endurance Series (NLS) will go down in the history books. Never before have two races of each four hours length taken place in just one weekend. The Austrian Simon Reicher may now consider himself part of this history. Barely two weeks had passed since the student from Graz celebrated his GT-3 Nordschleife debut. Now, it was time to apply what he had learned and gain more experience in his young motorsports career.
"This weekend was a big learning curve consisting of many little steps. On the Nordschleife, also known as the Green Hell, nothing is more important than experience. At first, you're happy to keep the car on the road as you race through the forest flying by the trees. At some point, you take a look at the clock and begin to notice your lap times. Then, it's you and your car against the Nordschleife and the clock ticking away. You aim for the magical eight-minute barrier per lap. I finally understand what my role model Walter Röhrl meant when he said, "I don't put on a helmet for anything over eight minutes", enthuses the Audi R8 LMS driver.
Currently, the 20-year-old is training from one NLS race to the next in preparation for the biggest event of his career, the 24 Hours Nürburgring. "My team EFP Car Collection by TECE along with my teammates Elia Erhart, Jan-Eric Slooten, Klaus Koch, and Pierre Kaffer have an incredible training advantage. An advantage that they have developed through years of driving on the Nordschleife and from which I can learn and benefit tremendously. These experiences will leave a lasting impression on me," reports Simon Reicher.
The Nordschleife rookie has already set up his next practice goal. He sees great room for improvement in his overtaking maneuvers, where he believes he is still losing a lot of time: "I need to make my overtaking moves a routine. I think that's currently key for me to approach the eight-minutes." The Austrian is already impressively fast on the ca. 24-kilometer-long track, clocking at eight minutes and 22 seconds in a GT-3 car. The very best manage seven minutes and 59 seconds. "When you're on a fast lap, you just have to pray that there are no yellow flags (Code60) on the entire circuit, as yellow phases can heavily impact your lap time. A lot of variables have to fit, and that's what makes the Nordschleife so special," smiles the Kirchberg-native.
A second place in his division (SP9 Am) and 24th overall were conciliatory results for Reicher. "As long as I have rookie-status, I'm all about collecting kilometers. They are the only thing that will bring me closer to my goal. Once I have the feeling that I understand the Nordschleife I can take the next big step, whatever it may be. It will probably take me a couple hundred more laps, but I'm ready and excited for my next outing on track."
Simon Reicher must be a bit more patient before getting back into the cockpit. His next racing event will be the fifth NLS race, a six-hour edition, taking place August 28-29, 2020. Until then, the digital lecture hall awaits the civil engineering student for a few more hours.