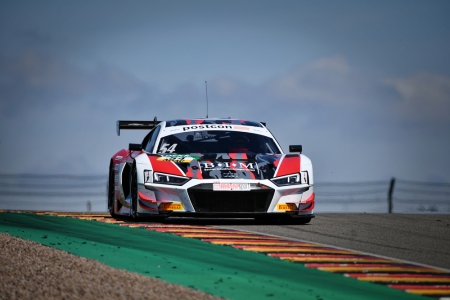 A few weeks ago, Simon Reicher announced that he would not be competing in the 2020 ADAC GT Masters for various reasons. At the same time, the Austrian declared the upcoming months as an intensive time for testing with his team YACO Racing. These efforts were launched in the Motorsport Arena Oschersleben close to Magdeburg. Next up was the Grand Prix circuit of the Nürburgring. "Despite knowing and having driven most Grand Prix tracks a couple times, some of them are rather new territory for me in the GT-3 Audi. A newly introduced tire in the ADAC GT Masters this season hasn't made things easier. It's the same tire for all teams and drivers, but works in a very narrow operating window", says the civil engineering student.
The Czech Grand Prix course in Most was the next candidate for testing last Monday. Most held no special surprises for Reicher and his team. On the contrary, the Kirchberg-native described the tire situation as "super". A slightly different experience two days later at the Sachsenring. "It's my first time here at the Sachsenring in a GT-3 car and I must admit this circuit is anything but easy to drive. Many turns with poor overall visibility. You're practically driving blind and fight a lot. The new tire behaved completely different here than in Most. We reached a good race pace but are still missing that last bit to match a qualifying pace. We need to improve our understanding of the tires here at the Sachsenring as we do not have any references to stick to", comments the talented driver. His countryman and team colleague Norbert Siedler summed up the test results as follows: "Things are going in the right direction. We're very strong with used tires, but are still missing a few tenths per lap on a new set. We still have a bit of work to do on the car. All in all, we are doing very well and working with Simon is a lot of fun. He is hungry to learn, absorbs all information, and can implement it very well."
Next up in three weeks is a famous circuit on the coast of the Netherlands. Time to get to know the newly rebuilt circuit and brand-new asphalt of Zandvoort, located among the dunes of the North Sea Coast. The young Austrian, who already made guest appearances in Zandvoort competing in the Clio Cup and TCR Germany, does not view these experiences as a direct advantage. "We are very lucky to have my team partner Norbert Siedler on board again. He has already driven the new track and is very experienced. I lack this experience, therefore basically starting from scratch. Collaborating with Norbert is great, so I'm not worried at all. It will work out, I'm sure", Simon Reicher shares confidently.