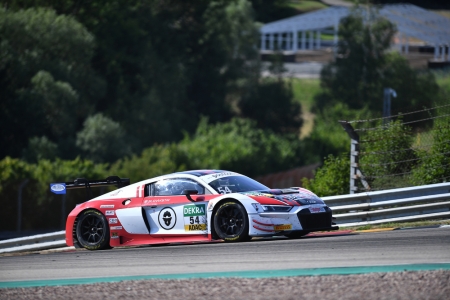 It will be a short, yet very intense comeback for YACO Racing when the ADAC GT Masters visits the Austrian Red Bull Ring October 16-18. The crew under team principal Uwe Geipel's direction is by no means unknown in the ADAC GT Masters. The team from Saxony was a permanent entrant in the series from 2012 through 2018 and planned to return permanently for the 2020 season – at least up until Covid hit the world. YACO Racing quickly postponed their comeback to 2021 and have since been busy testing.
Uwe Geipel, who has been active in motorsports for 47 years, shares some details about the upcoming surprise comeback: "This year we've tested on several circuits. We believe we now understand the new tires that are being driven in the ADAC GT Masters, especially how they work over an entire race distance. The qualifying setting still beholds some unknowns. We can simulate a qualifying session during our testing, but that is not fully representative. Therefore, we would like to participate in the upcoming ADAC GT Masters race and complete a qualifying under real conditions. That's the only way we will develop a better understanding of the tires and be best prepared for next season."
Racing veteran Norbert Siedler is excited about his first outing with YACO Racing. "Being a part of YACO Racing's return to the league of super sports cars is a great honor for me and I am very excited. After our many tests, I can already say the entire team has done a great job and we are all pumped to compete in a race this season. Competing in one of the world's most competitive series at our home circuit Red Bull Ring is something very special."
Simon Reicher, who was a bit afraid of taking on the title of "testing world champion 2020", joins the team for the upcoming ADAC GT Masters race after several appearances at the Nürburgring Endurance Series and the legendary 24-hour race two weeks ago. "Testing is a great thing. You can work very concentrated and learn to understand many complexities. But the bottom line is that a racing driver naturally wants to race. That is what motivates us. The advantage of our upcoming guest entry is that we don't have expectations. We don't have to compete with anyone, collect any points or trophies – we can just do our thing. However, we should try to bring our car back home safely," says the 20-year-old student.
How likely is it that YACO Racing only does one guest entry this season? "We'll have to evaluate and process the data from the Red Bull Ring. Therefore, we are planning with a second guest entry in Zandvoort. As everyone knows, we have great memories of Zandvoort, where we won the second race in 2016, placing right ahead of our current driver Norbert Siedler," smiles team boss Uwe Geipel.
The municipality of Spielberg (Styria) welcomes the participants of the ADAC GT Masters to the Red Bull Ring October 16-18. Authorities have allowed a total of 3,000 spectators thanks to a comprehensive hygiene and infection protection concept. All other GT Masters fans can watch the races on Sport 1 beginning at 1 p.m. or cheer on their drivers in the ADAC live stream.