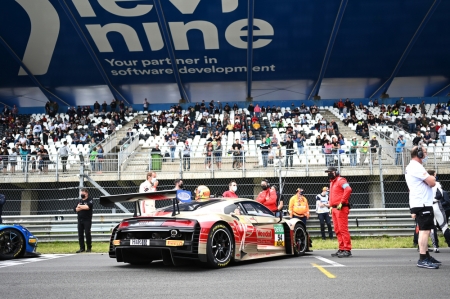 Kirchberg bei Mattighofen/Upper Austria: Zandvoort in the Netherlands hosted last weekend's (June 9-11) races in the ADAC GT Masters. Austrian team YACO Racing was full of anticipation heading into this weekend. Summer weather provided a great atmosphere for the very international driver field of the German GT Championship to battle it out on the 4,259-meter circuit.
After the Austrians sorted out some problems at their home race at the Red Bull Ring four weeks earlier, Zandvoort was expected to be a turning point. After 20th and 5th position in the first two practice sessions on Friday, Saturday morning's first qualifying session brought about several challenges. No less than three red flags interrupted the session. Simon Reicher comments: "Due to the red flags, I simply couldn't get my tires to work at their optimal temperatures. Every time I was close to being in the right temperature window, the next red flag came, and my tires cooled down again. Additionally, I had a small technical issue on my brakes. We had to settle for 23rd position off the starting grid." The race on Saturday afternoon was no less challenging. Three penalties for "forcing another car off the track", starting the driver change too early in the pits (the car was still in movement and not yet standing still), and driving too fast in the penalty zone resulted in a 22nd place finish. 
Sunday turned into the Austrians' turnaround experience. "The result on Sunday was ok. Norbert was able to make up a few places in his stint and our pit stop strategy was great. Two competitors dropped out in front of us during the race. Overall, we did well, but I'm not yet satisfied with the performance. We had to fight very hard and it didn't go the way I'd like. We have a lot of room for improvement. We'll do everything we can to make progress and be best prepared for the next GT Masters event in four weeks at the Nürburgring," Simon Reicher analyzes Sunday's race. But amidst his mixed feelings, the 21-year-old also finds some conciliatory words: "We didn't start the season particularly well. However, we have improved from weekend to weekend. I think that's great. A big thank you to my team – everyone works hard for our success. This weekend's final result was an excellent tenth place."
Peter Reicher (Deputy Team Principal) summarizes the weekend as follows: "After Saturday's setback due to time penalties, our top ten finish is worth a little celebration. This was a very strong performance, especially considering we are a private team. Now, we have to keep the progress going and achieve good results."
The fourth ADAC GT Masters event at the Nürburgring awaits the Austrians in just four weeks.