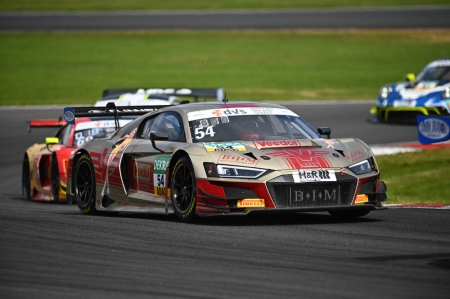 Klettwitz/Brandenburg: No, the Austrians were not involved in the fight for the title of mid-season champion during last weekend's (September 10-12) fourth round of the German GT Championship. Nonetheless, YACO Racing saw this weekend as a great opportunity to latch on and improve upon strong preparations and good results from the first half of the season.
Competing in the ADAC GT Masters, also known as the league of super sports cars, means racing against the best of the best. While the overall championship ranking has great significance, there are several more factors that play a larger role for the Austrians. Team Director Uwe Geipel reports: "We were able to implement several learnings from our recent tests at the Lausitzring. We must take into account that more than 20 cars are racing within just one second of each other. During qualifying, our lap time was just eight tenths of a second slower than the fastest lap. That threw us back into 22nd, which really proves how competitive the ADAC GT Masters is. Even though we'd like to be further in front, we're not dissatisfied with the result. Anyone can win or lose here."
Uwe Geipel elaborates: "We improved the set-up of the Audi throughout the entire weekend. During Sunday's race, Norbert Siedler did great fighting his way up to 15th place, where he then got stuck behind a Porsche. That was our signal for the driver change. Unfortunately, Simon Reicher was not able to match Norbert's lap times. He lost four seconds in his out-lap, costing us five places within a single lap."
Professional driver Norbert Siedler agrees: "We set ourselves a lot of goals for this weekend and were able to improve the car from session to session. Not every change turned out to be a golden strike, but overall, we made significant steps forward. Things went great in Sunday's race. We were able to keep up with the pace very well. But when you're already so far behind in qualifying, it's very difficult to get a top result in the race. If we manage to take this weekend's performance improvement to the Sachsenring and continue the trend, we have good chances of placing the Audi further in front in qualifying."
The next meeting of the ADAC GT Masters will take place October 1-3 at the Sachsenring.