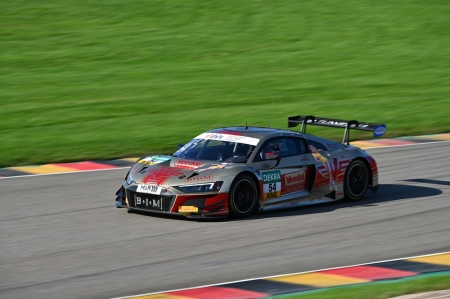 Oberlungwitz/Saxony: Last weekend's (October 1-3) ADAC GT Masters event was hosted by the Sachsenring, one of the most challenging circuits in the German GT Championship racing calendar. YACO Racing from Saxony was very excited for the team's home race. Deputy team manager Peter Reicher comments: "It's fantastic to see so many fans at the Sachsenring again". 
After YACO Racing took a big step forward with the setup at the Lausitzring, the team embraced this next challenge. "The Sachsenring is a technically demanding track, perhaps the most challenging circuit in the ADAC GT Masters program. We have all come to the Sachsenring highly motivated by the upward trend at the Lausitzring. We had a good feeling and were positive that great results will be possible at the Sachsenring. We were faced with a different reality after the first two free practice sessions. Our setup from the Lausitzring did not bring about the anticipated improvements. We lost more ground to the front runners than expected," reports 21-year-old Simon Reicher from Kirchberg near Mattighofen.
Team-mate Norbert Siedler describes the situation as follows: "We hoped for a different result after our significant improvements at the Lausitzring. We certainly imagined things to turn out a bit differently here at the Sachsenring. Our expectation was to keep up with the pace up front, but in reality, we were racing in no-man's-land. It seemed a bit like everyone else was using completely different tires than we were. A different tire that builds up proper grip, while we had zero traction on the Pirelli's. There were improvements in sight after the start of the second race. I was able to drive our Audi R8 LMS from 23rd to 12th place on the first lap. I then tried to improve my position in some duels, but stood no chance. Our competitors overtook me wherever they wanted to. I almost felt like an obstacle in the middle of the circuit. I had no chance to fight back."
Peter Reicher is already looking ahead to the upcoming race at Hockenheim: "This may sound silly, but we have to work even harder now to save our season. Nonetheless, I'm realistic and honest with myself in recognizing that it's going to be a very tough task. We will now invest all our energy in the upcoming race at the Hockenheimring. We want to finish up our 2021 season with positive results."
With 27th position on Saturday and 18th position on Sunday, YACO Racing had a mixed goodbye from the Sachsenring. In three weeks, October 22-24, the Hockenheimring will host the penultimate ADAC GT Masters event of the year. "Thursday before the event is an official test day. We want to make the most of that opportunity," says the Austrian.