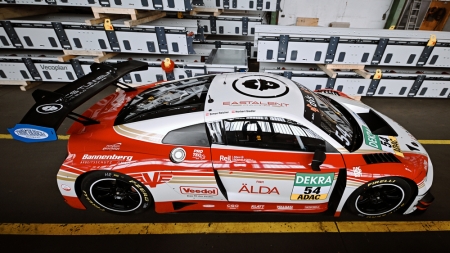 Kirchberg/Upper Austria: It's official! Last week Thursday before Easter, team owner Peter Reicher announced that his motorsport team Eastalent-Racing will compete in this year's ADAC GT Masters. The announcement took place at Bachler Industriemontagen in Bad Marienberg (Rhineland-Palatinate), just months after Eastalent-Racing was founded in December 2021. The first rollout already took place a week ago at the official test and press days in Oschersleben near Magdeburg.
The experienced Austrian driver duo Simon Reicher and Norbert Siedler will compete for the team this season. This year's season opener will traditionally take place at the northernmost circuit of the series, the Motorsport Arena Oschersleben. End of May, the series will travel to Eastalent's home game at the Red Bull Ring in Austria. "For us as Austrians, it's the event of the year. It's our home race. We want to perform especially well there," says team owner Peter Reicher. Five more events will follow, including races at Zandvoort in the Netherlands, the legendary Nürburgring, Lausitzring, and Sachsenring. The season finale will take place at the Hockenheimring. Peter Reicher explains this year's goals as follows: "Every race this season is important. We've repositioned ourselves, won over renowned engineers and bought a new Audi R8 LMS EVO 2. Motorsports are our passion – we love this type of competition. After gaining experience the past few years in the ADAC GT Masters, our goal is now to score points at every race."
Last year's partner YACO Racing will be a base for the Austrians throughout the first of the season. "YACO will not compete this year. We took some time to take this step to grow as an independent team and our new Audi arrived only three days before the official test days in Oschersleben. This rollout had absolute priority for us and we are very grateful to Uwe Geipel from YACO Racing for allowing us to rent his workshop in Saxony for some time", says the team boss.  
Over the next few months, last year's Audi R8 LMS will be prepared for other series. We will use this car to compete in events such as the GTC Race organized by Ralph Monschauer, the 12 and 24-hour races of the Dutch Creventic Series or the endurance classic of the VLN Series. "We are open to all ideas. Anyone can race with our R8 in their favorite series."
The season opener starts next Thursday (April 21) with the first official test day of the German GT Championship. Saturdays and Sundays, the "League of Super Sports Cars" will be broadcast live on Nitro as well as RTL+ from 12:30 p.m. onwards. The event will also be streamed on the ADAC Motorsport site.