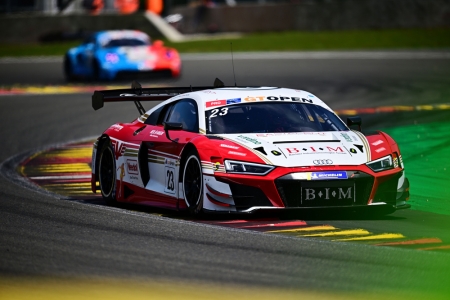 Spa-Francorchamps/Belgium: After a very successful debut in the international GT Open series four weeks ago in Portimao, Portugal, the Austrian GT3 team Eastalent Racing traveled to Spa-Francorchamps, Belgium, last weekend (May 26-28) for the second round of the championship. It turned out that the Austrians have a special talent for this roller coaster circuit. The two drivers Simon Reicher and Christopher Haase confirmed that their Audi R8 LMS evo II suited the 7,004-meter track particularly well. 
This weekend's special feature was the Endurance Mode. This means that both drivers drive a qualifying session, their respective best lap times are added and then divided by two. The result then forms the starting grid for Sunday's race, which is run over two hours, 20 minutes, and one lap. Three compulsory pitstops must be completed, which means that each driver has to drive two 35-minute stints.
After pole position and scoring second place in the race, the Eastalent drivers were rather self-critical in their weekend analysis. Simon Reicher expresses self-criticism and confidence at the same time: "I can't really be that happy because we had an extremely difficult race. Above all, we were lucky that our tires held out. Nevertheless, second place and double points for the championship are wonderful. All in all, we can pat ourselves on the back for the race. We did a good job. Now, we must see how we can optimize our performance for the upcoming races at the Hungaroring and Paul Ricard. We will sort ourselves out over the next few weeks and complete an intense testing program." Regarding tire performance, the youngster explains, "From the outside, I can't really gauge if our competitors also had problems with their tires. But I know for sure that the tires are our weak spot. We've got to work on that."
Audi Sport driver Christopher Haase summed up the weekend as follows: "As a team, we can be very happy with the weekend. The pole position and second position in the race are a strong performance for all of us. As a driver, I was very happy with the qualifying. The tire issue was more of a problem than we had imagined. There's still a bit of work ahead of us. Under these circumstances, we made the best of the weekend."
In three weeks' time, the Austrians will already be off to the Hungaroring in Hungary for their June 16-18 race weekend.