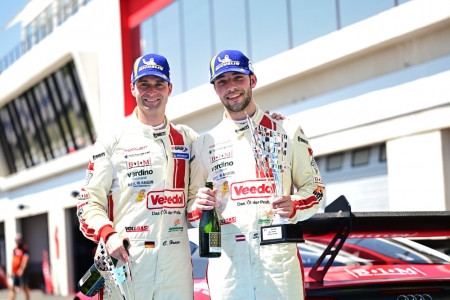 Le Castellet/Southern France: Team manager Peter Reicher was well aware of the challenges ahead before the fourth round of the GT Open last weekend (July 21-23). The Eastalent-Racing Team from Kirchberg in Austria experienced an up and down of emotions at the Paul Ricard Circuit. 
While the Austrian team with Simon Reicher and Audi Sport driver Christopher Haase behind the wheel were fastest in both free practice sessions on Friday, they could not finish beyond 14th position in qualifying on Saturday. In the race later that day, a competitor spun in front of starting driver Simon Reicher and touched the Audi R8 LMS evo II so heavily that he had to pit. Simon Reicher explains the situation as follows: "The start turned out to be difficult because the driver in front of me couldn't get away properly. The field jammed together a bit in the following corners and a competitor spun in front of me. It looked like his tires were not up to temperature. In any case, he spun into me, a classic motorsport accident. I looked for another lap to see if we could continue with the damage, but it was just too much."
Christopher Haase took over the qualifying session on Sunday. He summed up the race weekend as follows: "It's been an eventful weekend. We started very well by leading both free practice sessions. The first qualifying on Saturday was difficult, especially when Simon got into an accident on his first lap of the race through no fault of his own. So, we dropped out and couldn't score any points for the championship. Unfortunately, that happens in motorsports, which is always a pity, also because I assume that we could have taken home some healthy championship points. In the second qualifying session, we were simply not prepared enough, which led us to fifth place. The following race was a lot of fun and the car ran great! I had some exciting duels and was able to hand over our Audi to Simon to lead the race. Simon was able to withstand the pressure and only had one competitor pass him shortly before the end. We say goodbye from Le Castellet with one laughing and one crying eye."
Simon Reicher comments on Sunday's events: "It was very difficult for me to get into the flow of the race. We had made a few changes to the car, so I simply lack practice here at Paul Ricard. On top of that, the air hose responsible for cooling the helmet had come loose. It was flying around in my face every time I braked and went through a corner. I got hold of the hose by chance on the straight and was able to reconnect it to my helmet. Unfortunately, I then made a small mistake and was overtaken. I'm very happy with second place. Especially because the pace was right."
Team manager Peter Reicher concludes the GT Open event in southern France: "In general, I am very satisfied with the weekend. Just our zero points from the Sunday race at Hungaroring and here in Paul Ricard on Saturday are disappointing. This makes it difficult for us in the championship. We are still working towards our first victory. Our team and drivers have shown a top performance. We will do everything we can to celebrate our first victory at our home race at the Red Bull Ring."
The GT Open takes place at the Red Bull Ring from September 8-10.